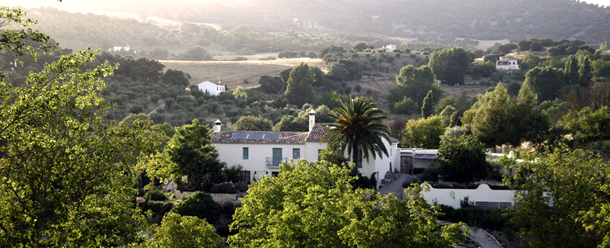 La Alcantarilla is a beautifully renovated seven bedroom farmhouse sleeping up to 14, in a lush and verdant valley only ten minutes from Ronda and within an hour of Marbella, Costa del Sol.

Encircled by both a river and a stream with wonderful views towards the shimmering Grazalema mountains it has five acres of terraced fields, orchards and gardens to explore. The eleven-metre gated swimming pool is surrounded by lawn, lilies and lavender. There is even a separate play area beyond the pool garden for young children, equipped with swings, climbing frame, slide, play house and small motorbikes for toddlers. A badminton net provides entertainment for all ages.

Both East and West wings have their own kitchens, sitting rooms and dining areas for six, and there is also a spacious dining room to accommodate all 14 guests. This has balcony doors and window onto the south facing cobbled terrace and the walled garden.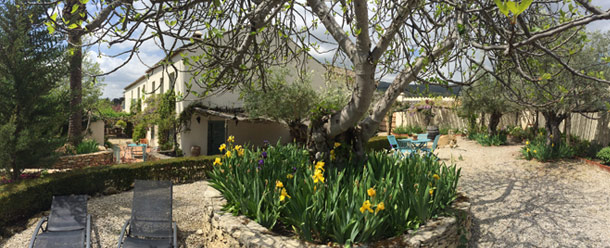 There are four double rooms, three twin bedrooms and four bathrooms. The principal bathroom has a powerful open shower and a bath with stunning views of the countryside, two bathrooms have garden views and baths with shower attachments and the last has a grey marble tiled shower and large colonial style shower head.

Under shady wisteria pergolas and old cobbled terraces, walled patios and grass lawns there are at least six areas for outside eating, either in smaller groups or at one long weathered wooden table. Soft, romantic night lighting is created by candles, solar lanterns, fairy strings and the delicate patterns of Moroccan shaded lamps.

There are three chill out areas set under vines with large floor and scatter cushions to stretch out and relax.

The property is let exclusively as one large country house during the summer months of July, August and September and can be divided into two properties at other times of the year. The East wing (Casa Maia) sleeps six and the West wing is occupied by the owner.

» Click thumbnail images for larger photographs




Step inside from the west-facing covered terrace and find an old oak gate-legged table and pine settle for your more intimate meals.

Pass through this space into the kitchen and note how the conversion has created an open-plan layout connecting the breakfast area, sitting room and kitchen.

This ancient farmhouse retains its thick stone walls while benefiting from all the conveniences of a modern renovation, including double glazing and central heating. Walls are painted in neutral lime wash hues and floors laid with local Ronda stone.

The kitchen in the West wing is equipped with a 90cm Smeg range oven and five ring gas hob. There are two sinks, granite surfaces and wooden cupboards and drawers with metal interiors. There is a fridge/freezer, drinks fridge and dishwasher concealed by painted wooden doors. A microwave, toaster, and hand held blender are all provided and there are plenty of roasting trays, casseroles, saucepans and frying pans. It is very well equipped for large groups.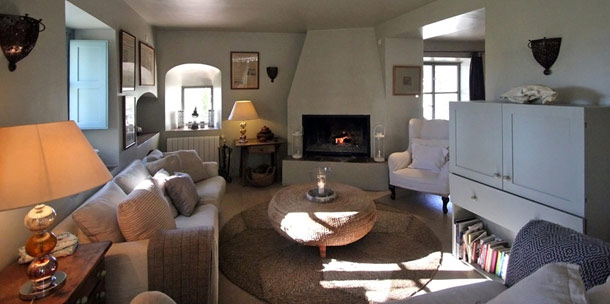 The sitting room is furnished with two three-seater sofas and a wing armchair. There is an open fire place, DVD player and satellite television (UK Free to View and Canal Plus for Sport) hidden in a cupboard. Music can be played through a speaker system appropriate for iPhones, iPods, iPads, MP3 and computers and CD player. There is both a library for CDs and DVDs.

The sitting room opens through double doors onto the South facing terrace and internally it is connected to the double height atrium. The atrium is warmed in winter by a log burning stove and kept cool in the summer by its height. It is a light-filled sitting/study area, and the central part of the house.

A laundry with washing machine, dryer and trunk freezer and a separate downstairs shower room can be found at the back of the house.

A hidden doorway leads into the principal dining room. Here groups of 14 can dine together in the winter months, or in the summer it holds a table for eight and a comfortable sitting area of sofa and armchair at the other end. There are doors and windows onto both the walled garden and the cobbled terrace.

From here the living room of the East wing can be reached, where you will find two three-seater sofas, an armchair, log burning stove and a satellite television and DVD player. There is also a music speaker system in this wing.

The living room accesses the walled courtyard as does the East wing kitchen. in this second kitchen an electric oven and ceramic hob are set into wooden units and granite surfaces. there is also a fridge/freezer, dishwasher, washing machine, microwave, hand held blender, toaster and electric citrus press. A dining table for six sits comfortably in one corner with views of the courtyard.
» Click thumbnail images for larger photographs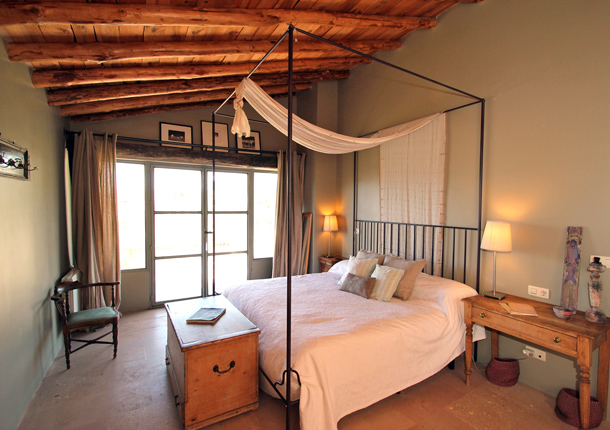 The open staircase in the West wing is situated between the sitting room and double height room and ascends to a gallery area overlooking the atrium, where a pine desk, carver chairs and a wardrobe full of books on Spain and gardening can be found. Double doors lead out onto a balcony from which the full two hectares of Alcantarilla land can be viewed, as can the city of Ronda on a nearby hill.

Turn left at the top of the stairs and climb a couple of steps to the master bedroom which you enter from the left, the master bathroom straight ahead and a twin bedroom to your right.

The master bedroom and bathroom open onto a stunning terrace with views of the Grazalema mountains and a beautiful old cortijo complete with a dove-filled tower. The master bedroom has a two metre squared iron four-poster bed, fitted wardrobe spaces, and a wall of windows and doors onto the terrace. The bathroom has an open shower and a bath with views across the mountains. The floor and shower surrounds are white and travertine marble. The washbasin sits upon old patterned hydraulic tiles.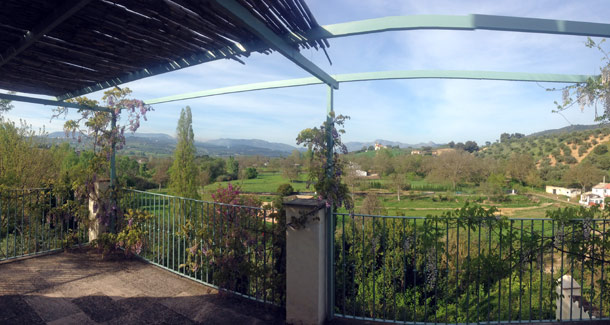 The adjacent twin bedroom has a wardrobe, coat stand and nursing chair and mirrors.

From the gallery a twin bedroom, with wardrobe, chair and mirror can be accessed. This has an antique shutter onto the gallery. Alongside is an aqua-tiled bathroom with a lavatory, and bath with shower attachment. The sink is set in travertine marble.

Leaving the gallery through a curtained opening is the entrance to the second double bedroom. Here there is a king size bed with rattan surround and a blue velvet sofa. Two sets of balcony doors open onto the south facing garden, and below lies the cobbled terrace. There is a wardrobe, long mirror, changing table with chest of drawers and bookshelves.

Adjacent to this bedroom is the twin room for the East wing. It can be accessed by both wings of the house, although there are locks for discretionary use. It has a wardrobe, chest of drawers, mirror and nursing chair.

From the East Wing corridor, turn right into the double bedroom with balcony doors overlooking the south facing terrace, main garden and palm tree. The bed is 150 cm and there is a wardrobe, chest of drawers and occasional chairs. On the other side of the twin bedroom is a pale aqua-tiled bathroom has a bath with shower attachment, loo and washbasin with travertine marble surround and shelves. We provide soap, liquid hand soap, loo paper and of course pure cotton bath and hand towels, face cloths and swimming pool towels.

On the far side of the bathroom is a small double of 135cm, also with a mirror, chair for slinging clothes and bedside tables and lamps.

All sheets are 100 per cent cotton.
» Click thumbnail images for larger photographs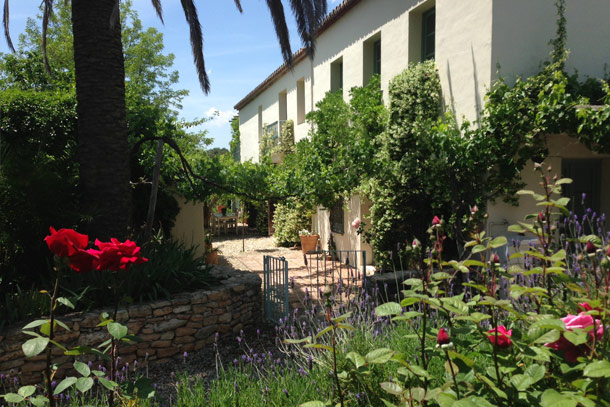 Alcantarilla West wing has a covered dining area and a long weathered wooden table on the cobbled terrace which runs the length of the house.

The covered terrace is west facing and the cobbled terrace south facing. There is sunlight throughout the day, however, always enough shade for the heat of summer, since the house is protected by mature walnut, fig and acacia trees. The house and pergolas are bedecked with wisteria, jasmine and honeysuckle.

Behind the casita on the main terrace is an area covered with floor and scatter cushions for relaxing. And from this corner are steps down onto a lawn which curves around the house ending below the covered terrace.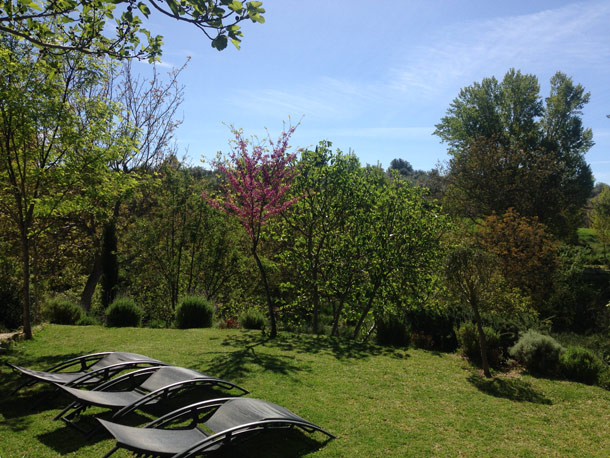 The house also opens onto a south-east facing walled garden edged by an agapanthus lined path and rose-bedecked pergola leading towards a vine covered seating area with views of Ronda and its surrounding hills.

Ancient olive trees sit among fig, mulberry and pomegranate trees, underplanted with spring flowering iris. Rose beds are filled with lavender and daisies. An old stone water feature trickles water onto a pantiled course that flows through the garden.

By the house, under the shade of a cane roof there are floor and scatter cushions for relaxing, and a wooden table and chairs for outside dining.

There is also a smaller walled courtyard by the East wing kitchen and sitting room. A lemon tree stands in one corner and a rose bush in the other. Flowers, herbs and climbing plants decorate the patio and a table and chair provide the perfect spot for a cup of tea or morning coffee.

Beyond the lawn, paths take you either to the old terraces planted with new fig and apple trees, down to the stream past ancient olives and spring flowering iris or through the herb and rose beds to a gate leading out towards the orchards and the swimming pool.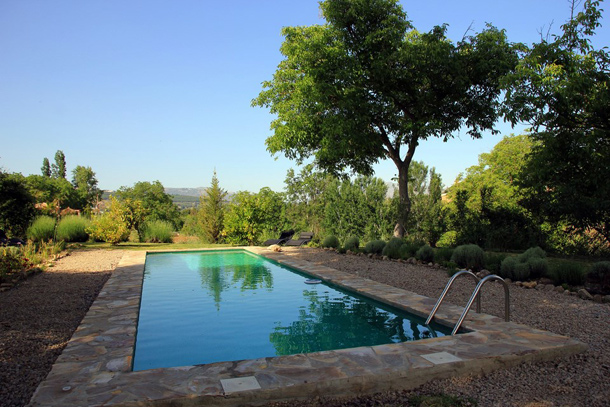 Across a stone bridge and only a couple of minutes stroll away is the 11 metre saltwater swimming pool encircled by a lawn and flower beds. This is set in an acre of orchard. Predominantly an apple and walnut smallholding, there are also numerous quince, pear and sharon fruit trees as well.

On the approach to the pool there are swings, climbing frames for very young children and a badminton set for all the family. At the other end of the land a moorish aqueduct can just be seen nestling among the quince trees and bamboo-lined stream.
» Click thumbnail images for larger photographs
Alcantarilla as an exclusive property is only available for the following dates, price per week:
26 August 2017 - 28 October 2017
3950 euros
29 October 2017 - 30 March 2018
3672 euros
31 March 2018 – 13 July 2018
4029 euros
14 July 2018 - 31 August 2018
6107 euros
1 September 2018 - 27 October 2018
4029 euros
28 October 2018 - 22 December 2018
3672 euros

However, for a wedding or event, including entire property rental for minimum 4 days,
please enquire for any date
Booking Terms
Prices per week.


Heating included during the winter months.


Deposit of 50% to confirm the reservation.


Balance to be paid one month before arrival.


Damages Deposit: 1000 euros in cash/transfer, returned on inspection at departure.


Cancellation Policy


Within 3 months of arrival date, deposit forfeited.


4-5 months prior to arrival, 50% deposit returned.


6 months prior to arrival, 80% deposit returned.